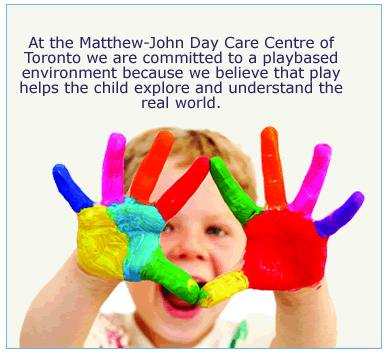 Welcome
The Matthew-John Day Care Centre of Toronto is committed to make each child's experience a positive one. We are dedicated to providing a safe, caring and stimulating environment in which children can develop physically, socially, emotionally and intellectually.
Our goal is to create a program and environment that recognizes and meets each child as an individual with unique interests, culture, capabilities and aspirations.
Our stimulating program fosters creativity with the child's best interests in mind in order to satisfy their desire to explore and promote discovery. We are committed to a play-based environment because we believe that play helps the child explore and understand the real world.
Children are active participants in their environment and will be given opportunities to make choices that enable them to learn how to problem solve, socialize, share and learn about the world around them.
Latest News:
Please note that the Board is looking for 4 new members to join for the 2014-2015 year. You can self-nominate or nominate another parent. The election of new Board Members will take place at the upcoming Annual General Meeting on Tuesday, October 28, 2014 at 6:15 pm in the gym.
New Board Positions are open
What you would be signing on for? As a non-for-profit daycare, Matthew-John Day Care Centre is governed by a seven-member Board of Directors responsible for its overall well-being. Serving on the MJDCC Board gives parents the opportunity to engage with and give back to their community.
The Board meets no fewer than six (6) times a year to discuss issues and to plan for the future. It also deals with time-sensitive issues on an ongoing basis via email and/or conference calls as required.
In general, Board Members will:
• Determine and understand the needs of the community;
• Set policies and broad directions, in accordance with the by-laws and the Day Nurseries Act;
• Review and bring forward issues of major importance to the Centre;
• Review the contributions and performance of committees, if appropriate;
• Respond to the recommendations and proposals put forward by the Supervisor;
• Ensure the financial health of the Centre;
• Evaluate the board's own performance;
• Be positive advocates for MJDCC and speak with a unified voice once decisions have been made; and
• Empower & support the Supervisor in the day to day activities of the Centre.
What are we looking for? In order to ensure Board continuity as we transition from one year to the next, it is imperative that we fill specific roles on the Board. This year we are looking for new members with skills and experience in human resources, finance/accounting and/or law. Each year, there is typically a parent that has these skills which assists with reducing operational costs for hiring for these services. Additional learning opportunities always come up, so a willingness to learn and acquire new skills is a plus.
Want to become a Board Member? If you are interested, please submit your name and a short bio to matthewjohn.centre@gmail.com or give Jola a hardcopy by end of day on Friday, October 24.
All names received will be placed on the ballot for the election. If your name is on the ballot you will be asked to introduce yourself briefly, describing your professional and personal background, at the 2014 AGM prior to voting.