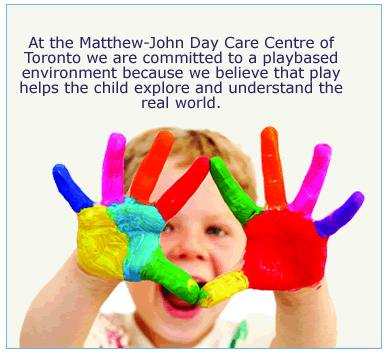 Welcome
The Matthew-John Day Care Centre of Toronto is committed to make each child's experience a positive one. We are dedicated to providing a safe, caring and stimulating environment in which children can develop physically, socially, emotionally and intellectually.
Our goal is to create a program and environment that recognizes and meets each child as an individual with unique interests, culture, capabilities and aspirations.
Our stimulating program fosters creativity with the child's best interests in mind in order to satisfy their desire to explore and promote discovery. We are committed to a play-based environment because we believe that play helps the child explore and understand the real world.
Children are active participants in their environment and will be given opportunities to make choices that enable them to learn how to problem solve, socialize, share and learn about the world around them.
Latest News:
SWING INTO SUMMER MINGLER!
Grab your beads and put on a mask! Let's party Mardi Gras-style in support of the centre! Thursday, June 8, 2017, 8:00 pm – 10:30 pm at Matthew John Day Care Centre – Gymnasium. Tickets are $20 in advance and $25 at the door – includes hors d'oeuvres and one drink ticket. Join us for a great night for parents only – music, mingling and a fantastic silent auction – all funds raised will go toward the revitalization of the playground.
Click here to buy tickets now!